Buying a wedding dress off the internet may seem an odd idea, so how can you see and choose what you like online?
That is a very valid question, but Billie Edge is not only hiring or selling a preset style of dress, we can also work with you to build the dress you have always wanted. So the internet is an ideal way to have communication directly with a dedicated designer who cares as much about this dress as you do.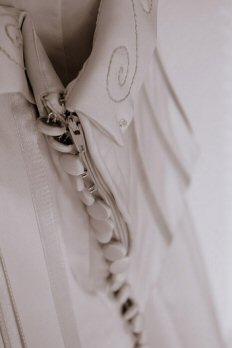 The first steps in any dress design is an initial consultation to discuss your ideas and look at how this can best be realised in the time frame allowed and within your budget.
This is always best done face to face and wherever possible we will endeavour to arrange this meeting. But Email is a very powerful tool, we can swap pictures and ideas, until everyone is happy with the design. Email is also key after the initial consultation, as you will be able to discuss things directly with Billie as the build continues. Regular status checks can be arranged and you will be kept informed through the stages as your dress is created.
If we can not organise a face to face meeting then Email, phone can be used, and a service where a mock-up of the dress is created and parcelled to you for exact fittings to be done. This is then pinned and marked at your leisure and posted back. This can be used as the template then to make the finished gown.
Follow the links below to Price lists, examples and some snaps sent to us from other past customers